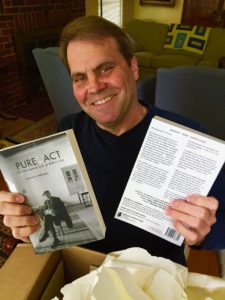 Michael N. McGregor is an essayist, biographer, fiction writer, poet, journalist, editor, teacher, and writing consultant based in Seattle, WA. Professor emeritus in English and Creative Writing at Portland State University, he holds an MFA in Creative Writing from Columbia University in New York and a BA in Journalism from the University of Oregon.
McGregor's essays, articles, short stories, and poems have appeared in a wide variety of publications, including Tin House, Orion, Poetry, Utne Reader, StoryQuarterly, The Seattle Review, Image, Notre Dame Magazine, The Crab Orchard Review, The South Dakota Review, Weber: The Contemporary West, Poets & Writers, The Writers' Chronicle, American Theatre, The Mid-American Poetry Review, Carve, Inkwell, Portland Magazine, Portland Monthly, Oregon Humanities, Oregon Quarterly, Oregon Historical Quarterly, Oregon Arts Watch, The Merton Seasonal, The Merton Quarterly, and The Merton Annual. He has also contributed chapters to The Dictionary of Literary Biography; The Oregon Encyclopedia; Now Write! Nonfiction: Memoir, Journalism and Creative Nonfiction Exercises from Today's Best Writers and Teachers; and Europe 101: History and Art for the Traveler.
McGregor's book Pure Act: The Uncommon Life of Robert Lax, published in 2015 by Fordham University Press, received an Excellence in Writing Award from the Association of Catholic Publishers and was a finalist for a Washington State Book Award in Biography/Memoir, a Catholic Press Association Book Award in Biography, and the Religion News Association's Excellence in Nonfiction Religion Book Award. In 2016, the American Association of University Publishers chose it as one of the year's 10 best university press books in American Literature for libraries.
In December 2021, McGregor was named the 2022 Donald J. Sterling, Jr., Senior Research Fellow in Pacific Northwest History. The fellowship, awarded by the Oregon Historical Society, will fund research for a biography of a prominent NW figure.
McGregor's other writing awards include the Oregon Literary Arts Leslie Bradshaw Fellowship, the Kilian McDonnell Fellowship in Faith and Culture, the Daniel Curley Award for Short Fiction, an Illinois Arts Council Literary Award, a Walden Residency Fellowship, an Image Artist of the Month selection, two Notable Essay designations in Best American Essays, and a Pushcart Prize Special Mention. During his teaching career, McGregor received the John Eliot Allen Award as the PSU English Department's Outstanding Teacher five times, making him one of the most recognized faculty members in the university's history.
In 2017, McGregor was honored with the prestigious Lenna Endowed Visiting Professorship at St. Bonaventure University in Olean, NY, and gave a keynote address at the International Thomas Merton Society's biannual conference. In the fall of 2018, he was selected to be one of eight international writers in residence at Sun Yat-sen University in Guangzhou, China. And in 2012 and 2019, he was a resident scholar at the Collegeville Institute at St. John's University in Minnesota.
In addition to interviews on NPR's "All Things Considered" and local radio programs such as Oregon Public Broadcasting's "Think Out Loud," McGregor has done podcasts for Poetry magazine, Late Night Library, City Lights Bookstore, and Urban Roots. He has also spoken on aspects of writing, peace and justice, and other subjects at many conferences, including the Association of Writers & Writing Programs (AWP) Conference, the International Thomas Merton Society Conference, the Building Cultures of Peace Conference, the Northwest Independent Scholars Association Conference, the Ooligan Press Write to Publish Conference, and the Portland Book Festival.
As a journalist, McGregor has covered theater and other arts for the Oregonian and Seattle Weekly, reviewed dozens of books for various publications, published hundreds of freelance articles, and worked as the Asia reporter for a relief and development magazine. He has also served as editor-in-chief for three magazines, including Columbia: A Journal of Literature and Art, and was the first nonfiction editor for the Oregon Literary Review. Currently, he edits and writes for the websites WritingtheNorthwest.com and RobertLax.com.
In addition to serving as a mentor for emerging writers and summer writing coach for the Collegeville Institute, McGregor works as an independent writing consultant. His work with individual writers has led to the publication of numerous books, articles, and prize-winning essays. In 2021, he helped with the translation of the German version of Robert Lax's 33 Poems.
Before turning his attention fully to writing and teaching, McGregor worked as a lecturer/guide for European tours, a small-business owner, and a U.S. Forest Service firefighter. He has served on the Advisory Committee for the Oregon Book Awards and Fellowships, Portland theater's Drammy Awards Committee, and the International Thomas Merton Society Board of Directors. He is currently a member of PEN, Biographers International Organization (BIO), the Association of Writers & Writing Programs (AWP), and the International Thomas Merton Society.
---
To contact McGregor with thoughts about his writing, queries about future appearances, or possible consulting on your writing, please use the form below.