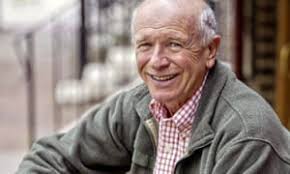 Three days ago, the playwright Terrence McNally died at 81, a victim of the coronavirus. He had COPD and had lost part of both lungs to lung cancer, so he was one of the most vulnerable among us to this awful pandemic. He was also one of the most brilliant, creative, and loving men in our world.
I didn't know McNally personally except that I once did a long, lovely interview with him over lunch at Portland's Heathman Hotel. This was in the early 2000's when I was writing regularly about theater for the Oregonian, including interviewing any playwright who came through town: Lanford Wilson, Romulus Linney, John Guare, Tracy Letts.
Wilson and Linney (who had been my professor for a class on playwriting at Columbia University in the 1990's) were both warm and generous to me, but McNally was even more so. I had writing assignments to justify all of the other interviews, but not the one with him. Even so, he sat and answered all of my questions, treating me as a peer rather than just another interviewer.
Over time, I have watched many of McNally's shows on the stage or on film. He had broad range and a big heart. But I didn't know just how wide-ranging his work was, or how big his heart, until I watched the 2019 PBS American Masters program on him last night.
If you want proof that the jerks who say we should choose the stock market over the lives of older people as this pandemic continues to spread are sick and twisted, watch this program. You'll find a link to it here.
What life and wisdom and love left the world with this man. How many others with these attributes we need so desperately right now are we willing to lose?