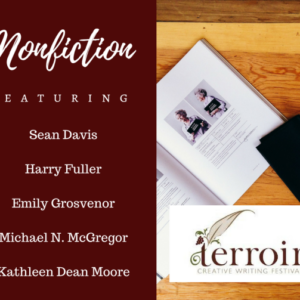 The featured image here is of poet Lynn Otto introducing me for my workshop "Getting Down to the Truly Personal in Personal Essay and Memoir" at the 8th annual Terroir Creative Writing Festival in McMinnville, Oregon, last Saturday.  McMinnville is at the heart of Oregon's wine country and home to the Evergreen Aviation and Space Museum, which is where Howard Hughes' Spruce Goose resides now.
The conference had 120 attendees and close to half of them squeezed into the small room where my workshop was held, with some spilling out the door.  The tight quarters made for good energy and the writing was furious during the three exercises I was able to offer in the hour I had.  Judging by the comments afterward, the exercises took people to the deeper places I hoped they'd go, some emerging with tears in their eyes and others saying they found their way with projects that had been stalled.
Below is one of the exercises we did, based on this paragraph from Jorge Luis Borges' essay "Blindness":
"A writer, or any man, must believe that whatever happens to him is an instrument; everything has been given for an end.  This is even stronger in the case of an artist.  Everything that happens, including humiliations, embarrassments, misfortunes, all has been given like clay, like material for one's art.  One must accept it.  For this reason, I speak in a poem of the ancient food of heroes: humiliation, unhappiness, discord.  Those things are given to us to transform, so that we may make from the miserable circumstances of our lives things that are eternal, or aspire to be so."
WRITING: Think of an "instrument" that is an inescapable element of your experience of life—asthma, blindness, migraines, single parent, poverty—something that has marked you in ways that might seem damaging or at least disadvantageous.  Write a long paragraph about it and your connection to it.